Propoint offers one of the markets strongest resources for efficient and comprehensive solutions in electronics production. Our highly efficient production facilities are cutting edge and our skilled, experienced co-workers are ready to take on any challenge you might wish to bring.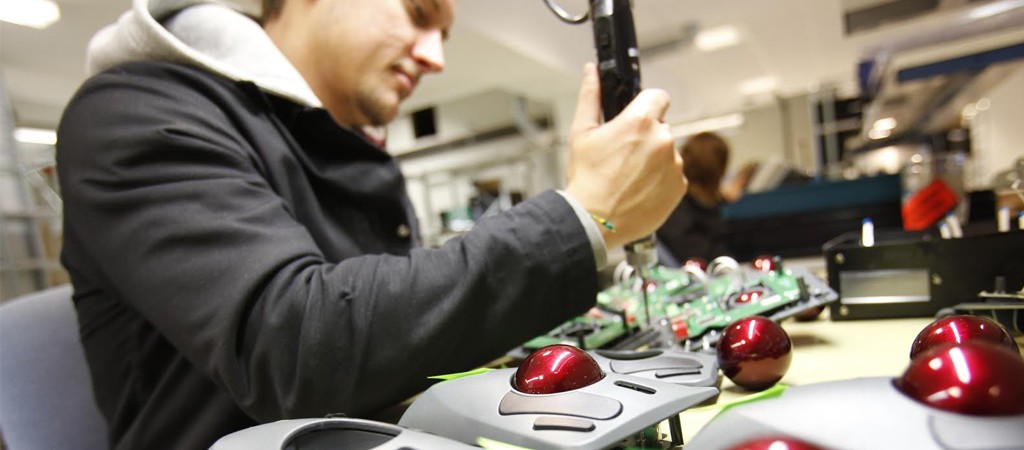 Design support
Propoint offers its own electronics and 3D mechanics CAD. We can support you with electronic design, changes in PCB layout and CAD for mechanical tools and fixtures.
Industrialization/NPI – New Product Introduction
You can confidently leave the groundwork for production, to our experts on industrialization. We implement DFM analysis (Design for Manufacturability) and have all the resources and capabilities to ensure optimal efficiency throughout the process until the unit is delivered. We work with NPI methodology (New Product Introduction).We have resident experts in industrialization and NPI (New Product Introduction). We conduct DFM analysis (Design for Manufacturing) in both PCB and PCBA and have all the resources and competences to ensure optimal efficiency throughout the process all the way to delivery.
Prototype development
Since prototypes often are time-critical, we offer clients manufacturing with effective project implementation.
We can handle the production of all necessary components for a time- and cost-effective production of very small series (5-10 pcs) of circuit board under series production like conditions. The objective is to ensure the construction, function and manufacturability for actual series production. Each prototype run is followed up with a feedback report from us where feedback is given on everything from documentation, printed circuit board layout, component selection, solder ability, appropriate packaging etc.
• Small Prototype series• Pre-series production (Zero series)
Process assurance
In connection with pre-series production we ensure that our processes are tuned to the product at hand. We draw the production panels in our CAD environment so that that they will function optimally in our production flows. We optimize and document soldering profiles so that PCB and components are re-melted in a lenient way.
Industrialization
Manufacturing that is closely linked to product development, production, adaptation and development means that the total cost of the final product will be lower.
Production of fixtures for the production and testing
We can produce fixtures, tools and customized testing equipment needed to produce individual prototypes as well as small prototype series.
FMEA, control plan, flow chart
Through our many years of experience as a supplier to customers in the Automotive, Telecom and Medical sectors, we are experienced in preventive quality work in the form of P-FMEA, Control plan and flow chart. We are always working to find the errors before they find us.
Material declaration
Through working together with skilled demanding customers, we continuously grow and learn a lot. Therefore, we have extensive experience and knowledge in material declaration for our clients. We can assist in RoHS II clearance and material declarations down to the molecular level, to reporting in to the automotive industries own systems for materials declaration, IMDS.
Documentation
An important part of our daily work is to interpret and understand the needs and demands of our client in the best way. Most of the demands can be found in the technical documentation we receive and handle in our own Change order system. With the help of CAD software for both mechanics and electronics, we can open and review all common file formats. We support with the development of additional production data such as assembly instructions.
Purchasin/Sourcing
Our purchasing and logistics function can provide knowledge and support with increased efficiency as a result. At the beginning of a new project, our purchasing department is involved in the process by selecting the right suppliers, suitable delivery times and creating the best conditions to achieve right quality and optimal cost efficiency. In order to meet all demands on delivery precision and quality, our suppliers are quality assured according to our systems.
Component Knowledge / Choice of components
Supplier Selection / Supplier Plan
Component Procurement
Our vast experience of total purchasing responsibility and sourcing allows you to leave purchasing and sourcing to us at Propoint with confidence and security.
Complete production solution
Our Lean production concept constantly improves our flexible processes which can handle a wide range of demanding productions. In short, we offer:
• From rapid prototyping to series production
• Two surface mount production lines, Siemens Siplace
• Automatic optical inspection (AOI)
• Complete hole mounting and box build
• Cleanroom
• Washing and automated or manual varnish
• Function testing
• Service and aftermarket
Propoint's project management teams work closely with you, establishing contract reviews and quality assurance. Full responsibility for the project rests with our Client manager, who ensures that you always receive prompt and continuous information during the course of the project. Follow-up and improvement are key words for our Client managers.Having vast experience of complex productions for the Automotive, Marine, Medical, IT/Communications, Industrial and Military sectors we are accustomed to high demands and to deliver on them.
Surface Mount
Our Surface mount production is designed to provide maximum flexibility and we handle everything from rapid prototyping to volume production. By constantly developing our working methods and optimizing material flows around the machines, under our Lean way of working, we reach maximum use of capacity. This allows prototypes to be run cost-efficiently under serial production conditions in order to achieve the best results.
Hole mounting/Box build
Manual hole mounting/after assembly is carried out by skilled staff with extensive experience and with continuous internal training at Propoint. All assembly is performed under strict process control and according to our established assembly and process instructions.We can produce and assemble complete modules and systems in separate built production environments. Our Box Build offer includes testing, delivery all the way to the end customer and a complete service and aftersales commitment.
• Box Build
• Harness manufacturing in large series
• Suppliers of mechanical parts
• Design and styling of mechanics
Varnish/Lacquer
We offer advanced robotic or manual varnish/lacquer with a range of different kinds of coatings.
Function test
Functional testing and programming is carried out by our Testing Department. We can assist in developing test setups, for example by designing test programs and manufacturing the necessary custom test fixtures. We can test, note and document the test parameters and results according to your instructions. Aging and destructive tests are conducted with temperature and moisture cycles in our climate chamber.
Quality control
With our focus on doing right from the beginning we need to continuously monitor our outcomes and performance. We measure, since many years, the yield of all production processes. This data forms the basis of our constant commitment to improvement. Based on the results of our preventive quality work, in the form of P-FMEA, we can therefore determine and apply the appropriate control methods for any specific product and production.
Logistics/Warehousing
You can always get quick and exact answers on components we have in stock. This makes it possible to exploit economies of scale in your choices of components at e.g. new constructions. Through good forecasting, we can deliver your products on demand and develop a logistics solution that meets your needs. On request we can store and manage a complete range of spare parts and related products. Our warehouse delivers directly worldwide.
Purchasing and logistics services in summary
• Rapid prototyping purchases
• Supplier Optimization
• LTB, Last Time Buy security
• Warehouse stock of materials and spare parts on behalf of clients
Aftermarket
We offer our clients a complete aftermarket set up with service, repair and upgrades of products out running. Our service department is responsible for control, actions and return of product. We can, on request, take care of all direct deliveries to client and/or end-customer, to minimize your handling service and repair.
Total solution
At Propoint we offer complete commitment where we take full responsibility for everything from product adaptations and prototype/pre-series production to industrialization and all the way through to delivery and the aftermarket/service function. This enables the fastest and most cost-efficient way to the finished product. This combination of design and production ensures highest efficiency, cost and manufacturability for the final series production. Our project management teamwork side by side with our purchasing and prototyping department that provides the most optimal solution in overall time and cost for any project. On your request, we can take total commitment and offer upgrade and maintenance services throughout the product lifecycle.
Based on agreed price and service levels we take responsibility for receiving, control, actions and return of the product directly to you or your customer in order to minimize handling of service and repair.
Läs mer om:
TOTAL SOLUTIONS     FLEXIBILITY     QUALITY